Description
Premium 3M ™ Xtract ™ Cubitron ™ II 710W Velcro sanding disc without holes can be used for a wide range of surfaces and applications. It removes up to 97% of dust during grinding, it works with a top cutting speed and lower pressure.
Top speed revolutionary disc
3M ™ Xtract Cubitron II (710W) is the world's first grating disc with the legendary 3M precisely shaped grain. The unique pattern and arrangement of the 3M grain enables a top cutting speed, longer blade life and almost dust-free grinding.

Almost dust-free sanding for a cleaner and healthier work environment
Up to 97% of the grinding dust passes through the grid in the disc, then through the backing pad and leaves through the extractor. When you connect the tool to a filter bag or suction unit, your work environment will be significantly cleaner and you will have almost no cleaning time after work. At the same time, you reduce employee exposure to airborne particles and create a healthier, virtually dust-free work environment.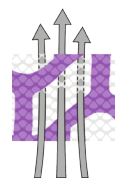 Use of a 3M Xtract Cubitron II 710W grinding disc
Disc Xtract is ideal for a wide range of applications such as material removal, surface preparation, medium or final grinding, fine finishing, etc.
It works on several surfaces: primer, paint, varnish, putty, gel varnishes, composites, white wood and metals.
The disc is designed for lower pressure, which reduces operator fatigue.
Velcro on the back speeds up and simplifies disc replacement.